---
Make no mistake; this is not your grandfathers' space program.
The 100 Year Starship™ will make the capability of human travel beyond our solar system to another star a reality over the next 100 years. 100YSS™ will embark on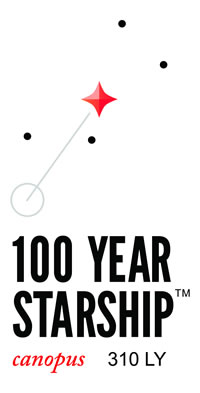 ajourney across time and space … If my language is dramatic, it is because this project is monumental. And our team is both invigorated and sobered by the confidence DARPA has in us to make interstellar flight a reality. Mae Jemison, MD, former astronaut and leader of 100YSS.
In 2011, DARPA and NASA convened a Strategic Planning Workshop, which brought together 29 visionaries with diverse backgrounds, from engineers to authors. Over the course of two days, participants discussed the requirements for seeding research that would enable interstellar flight.
The workshop sought to frame questions related technological, financial, and organizational strategy for a long-term project. Participants considered the connections between economics, politics, social trends, and technological progress, as well as the organizational characteristics that could navigate these domains with the flexibility and robustness required to endure.
Discussion addressed a wide range of issues, including motivations for human visitation of other star systems, the risks involved, the economic and socio-political obstacles, and the type of governance structure needed. Other topics, such as the importance of having short-term achievable goals, identifying a destination for a starship, bringing together a core group of experts/enthusiasts, interest groups and private funding, and the continued importance of science and technical education for the world's youth were also discussed at length.
In May 2012 DARPA announced an award of $500,000 to the Dorothy Jemison Foundation for Excellence to launch the 100 Year Starship Project, to begin the discussions and planning that would one day pave the way for humanity's most audacious undertaking: sending humans to the nearest star. Now such a trip is hardly trivial: Proxima Centauri is 4 light years away, or about 25 trillion miles. Our farthest spacecraft, Voyager 1, is travelling at 1/18,000 the speed of light; a starship at that rate would take 72,000 years to reach Proxima Centauri. And way longer if the decision is to go to Canopus!
This brings up all sorts of issues: Do you send live people, whose descendants will reach the star? What will they be like—humans on Earth have only a 10,000 year history. How do you get enough genetic variability to sustain people over that long a time? Or should they be put in suspended animation, as they do in science fiction? Or send frozen sperm and eggs? Or just a human genome map, with instructions on how to create humans from it?
The questions are really interesting to consider. Almost every field of human endeavor could be consulted: what art would they take? What music? Who would go? And of course, how would their mental and physical health stand up to such a long voyage?
But the 100 Year Starship folks are optimistic. They say: "The concept of humans traveling to other star systems may appear fantastical, but no more so than the fantasy of reaching the Moon was in the days of H. G. Wells. "The First Men in the Moon" was published considerably less than 100 years before humans landed on the Moon (1901 vs. 1969), and the rapidity of scientific and technological advances was not nearly as great as it is today. The truth is that the best ideas sound crazy at first. And then there comes a time when we can't imagine a world without them."
Watch an excellent short video of Mae Jemison discussing her vision for 100 Year Starship.
Wikipedia has a thought-provoking article on Interstellar Travel.
Visit the 100 Year Starship site.
---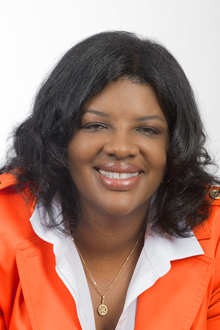 Alires Almon is a member of the 100 Year Starship Proposal team based in Denver, Colorado. She is the Orchestrator of Engagement, responsible for Programs, Outreach and Partnerships for 100 Year Starship. Throughout her professional career, Alires has fostered a deep passion for the opportunities created by advanced science and technology, and she has committed her skills and talents as a facilitator and organizational development professional to support that passion.
For example, Alires served as conference co-designer of S.E.E.ing the Future: Science, Engineering and Education, a national conference dedicated to discussing the future of government funding of basic science and engineering research in the United States. Held at Dartmouth College and co-sponsored, in part, by the National Science Foundation, the conference produced a White Paper publication on the future of science education in the U.S. She is also an active member of the Colorado Café Scientifique sessions, the largest gathering for community science education in the country.
Formerly part of a Fortune 100 global telecommunications company, Alires was a Senior Relationship Manager responsible for working with "Top Tier" revenue-generating accounts. In this capacity, she adeptly oversaw opportunity development for service-organization customer markets which generated over $10M every year for four consecutive years. During her tenure, Alires worked in the area of R&D as a Team Effectiveness Consultant. She worked in Organizational Development as Orchestrator of Engagement, Product Marketing and Support, and Global Services Delivery. Previously, Alires was a management analyst with the U.S. Bureau of Reclamation where she was chosen as a "Top Leader under 40." Among her many achievements, she was a featured speaker at the 2001 Association for Quality and Participation Spring Conference.
Alires is deeply involved in her community. Selected as a member of the "2010 Class of Leadership Denver," she was elected to be the Class Valedictorian by this organization's 2010 membership of Denver's most promising young leaders. She is also a member of Alpha Kappa Alpha Sorority, Inc. and former Board Member for Metro Denver Partners, a youth-mentoring organization.
Alires earned a Bachelor's degree in Psychology from the University of Georgia and a Master's Degree in Experimental Psychology with a specialization in Industrial and Organizational Psychology from New Mexico State University. In addition, she is an avid snowboarder, golfer, cyclist, and triathlete