---


People don't die from cancer - they die from advanced cancer - cancers that invade, unchecked, into important structures or spread to vital organs around the body. In recent years we have made tremendous progress in controlling important subtypes of advanced cancers, mostly through recognizing the dominant molecular changes that drive some cancers and that differ dramatically between one cancer and the next. Clinical trials of new drugs, designed to interfere with these specific 'drivers', when given to those preselected to have these abnormalities in their cancers, literally give some people back their lives, but few of these drugs represent a cure. Increasingly we have seen that fighting advanced cancer is not like fighting one big monster, it's like fighting a vast population of aberrant cells which can evolve and change to evade the treatment. Many of the recent changes in how we treat common cancers have originated from the CU Cancer Center. Dr Camidge will review some of the most out-of-the-box tricks we are now using to keep advanced cancer under control, the challenges we face in terms of using and combining new drugs plus how we are combining drugs and other treatment modalities, including the latest immune stimulation approaches. He'll also discuss and hope to get your feedback on some of the potential issues we will encounter on the road to a cure for advanced cancer.
Support our fight against lung cancer
---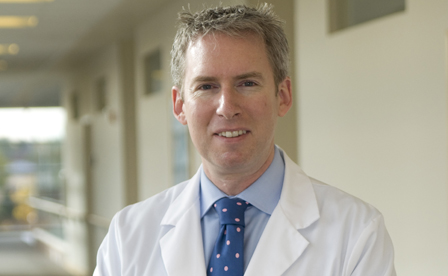 Dr. Camidge joined the University of Colorado as a visiting professor in November of 2005, and was recruited as full-time faculty in October of 2007. He trained at both Oxford Univeristy and at the MRC Laboratory of Molecular Biology in Cambridge University, earning MD and PhD degrees.
He is the Director of the Thoracic Oncology Clinical Program and the Program Director for the Thoracic Oncology Clinical and Translational Research Fellowship - a unique training program that provides extended research exposure for U.S. or International Senior Fellows interested in Thoracic Oncology. His focus is in Thoracic Malignancies and Developmental Therapeutics (Phase I studies). In 2012 he was announced as the recipient of the 5th Bonnie J. Addario Lectureship as a 'Luminary in the quest to eradicate lung cancer.' In 2013 he became the first physician to receive the Hank Baskett Sr. Spirit Award, for which he was credited as being 'one of the leading minds in lung cancer today.'
Research
Dr. Camidge is dual-trained in medical oncology and clinical pharmacology. The Developmental Therapeutics Program acquires access to a broad range of new drugs and in conjunction with the comprehensive Thoracic Oncology Program - including a multi-disciplinary thoracic tumor board, exceptional translational science collaborators and the busy thoracic medical oncology cancer clinics - provides outstanding opportunities to develop new drugs for treating patients with thoracic malignancies. Dr. Camidge is the principal investigator on numerous national and international therapeutic trials.