---
In a landmark paper published this year in Annals of Internal Medicine, Dr. Ginde's group compared blood vitamin D (25(OH)D) levels from the Third National Health and Nutrition Examination Survey (NHANES III), collected during 1988 through 1994, with NHANES data collected from 2001 through 2004 (NHANES 2001-2004). Complete data were available for 18,883 participants in NHANES III and 13,369 participants in NHANES 2001-2004. They report the first evaluation of temporal trends in vitamin D status in the US population.

The national data demonstrated a marked decrease in blood 25(OH)D levels from the 1988-1994 to the 2001-2004 NHANES data collections. Racial/ethnic differences have persisted and may have important implications for known health disparities. Current recommendations for vitamin D supplementation are inadequate to address the growing epidemic of vitamin D insufficiency.

"We found a marked increase in vitamin D deficiency over the past two decades," said Dr. Ginde.

More than three out of four Americans now have vitamin D levels below what is believed to be necessary for optimal health.

Previous data suggested that vitamin D insufficiency was more prevalent among older adults (owing to reduction of 7-dehydrocholesterol levels in skin), women (owing to lower outdoor activity), and individuals with darker skin (owing to increased melanin) . Dr. Ginde's study found that previous differences by age and sex have equalized, but those by race/ethnicity have remained. The loss of age- and sex-related differences may be secondary to disproportionately greater time indoors (eg, with television, computers, and video games) and less time outdoors among younger compared with older individuals and males compared with females.

During 2001 to 2004, only 23% of US adolescents and adults had serum 25(OH)D levels of 30 ng/mL or more, the minimum level that appears necessary for general health benefits.

Nearly all non-Hispanic blacks (97%) and most Mexican-Americans (90%) now have vitamin D insufficiency.

Ten minutes of sunlight on exposed arms and legs two to three times per week would significantly improve vitamin D production, but this must be weighed against the risk for skin cancer. Vitamin D supplementation is another way to increase levels. However, current recommended doses of vitamin D supplements are outdated and inadequate, according to Dr. Ginde and many other experts.

Current recommendations for dosage of vitamin D supplements are inadequate to address this growing epidemic of vitamin D insufficiency. Increased intake of vitamin D (1000 IU/d or more)—particularly during the winter months and at higher latitudes—and judicious sun exposure would improve vitamin D status and likely improve the overall health of the US population.
Some online sources that quote or provide background to Adit Ginde's work:
Vitamin D fact sheet from the NIH
Can Vitamin D prevent the common cold? from CNNhealth.com
Sunshine vitamine diminishes colds, flu from ScienceNews.org
Skin color matters in Vitamin D debate from USA Today
Vitamin D deficiency soars in the US says Scientific American
---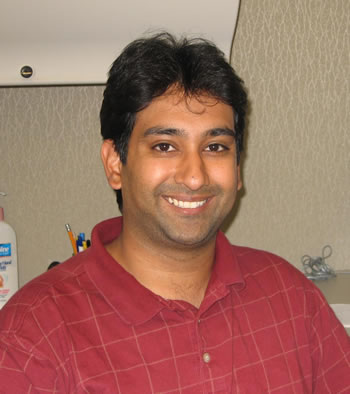 Adit Ginde, MD, MPH is an Assistant Professor of Surgery at the University of Colorado Denver School of Medicine and the Associate Director of the Colorado Emergency Medicine Research Center.
Dr. Ginde received his M.D. degree from Washington University School of Medicine in St. Louis and his Master of Public Health degree from Harvard University. He completed emergency medicine and research fellowship training as a member of the Beth Israel Deaconess Medical Center Harvard Affiliated Emergency Medicine Residency.
He actively practices and teaches emergency medicine at University of Colorado Hospital and Denver Health Medical Center. He is also a clinical epidemiologist with expertise in preventive medicine. His primary research focuses on understanding the role of vitamin D in general health and exploring population-based interventions to improve vitamin D deficiency. He also investigates vitamin D's role in the immune system and in the prevention of respiratory tract infection, especially in high-risk patient populations.
Dr. Ginde has published over 35 peer-review articles in a variety of general medical and public health journals and has received several extramural grants to support his work, including from the NIH, Colorado Clinical and Translational Sciences Institute, American Geriatrics Society, Center for D-Receptor Activation Research, and Emergency Medicine Foundation. His recent work on vitamin D has been featured on National Public Radio, CNN, and numerous nationally recognized newspapers and magazines.