---
In 2010, Dr. Johnson received the Theodore E. Woodward Award. Here is the abstract of his most interesting paper presented at that occasion:
All humans lack a key enzyme in vitamin C synthesis and in uric acid degradation due to genetic mutations in L-gulono lactone oxidase and uricase, respectively. Both mutations occurred during a period of global cooling associated with a shortage of food supplies, and recent studies suggest that these mutations may have had a survival advantage by augmenting the effects of fructose to increase fat stores. Interestingly, these prosurvival effects were mediated by increased oxidative stress. However, the introduction of sugar and high fructose corn syrup in the current American diet has skyrocketed, with a about a 25-fold increase in fructose intake since 1700. We believe that these dietary changes, coupled with the presence of our double knockout genotype, is largely responsible for the obesity epidemic today.
The "double knockout" refers to the two broken genes that all humans have; we know the genes exist because some of our primate cousins have perfectly good versions of them; but when one looks in the human genome, the same genes are damaged and do not code for a working protein. Therefore the 2 pathways (one that makes vitamin C, and the other that breaks down uric acid) are missing in humans, and so we are prone to scurvy and gout. Dr. Johnson's hypothesis is that these were good mutations at one time, as (among other things) they allowed early humans to get the maximum benefit from the small amounts of fructose (fruit sugar) that would be available in a hunter-gatherer's diet. But, as we've heard before in the Café Sci series, we no longer live in the world we evolved for...
---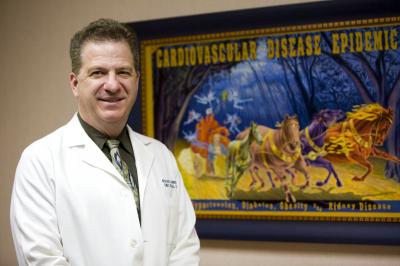 Dr. Richard J Johnson received his undergraduate degree in Anthropology in 1975 from the University of Wisconsin, and his M.D. degree in 1979 from the University of Minnesota in Minneapolis. He completed an internal medicine residency and nephrology and infectious diseases fellowships at the University of Washington Medical Center in Seattle. Dr. Johnson joined the faculty at the University of Washington in 1986, and in 2000 moved to Baylor College of Medicine in Houston, Texas where he was the Chief of Nephrology. In September 2003 he joined the faculty at the University of Florida.
He came to the University of Colorado Medical School in October 2008 to head the Division of Renal Diseases and Hypertension. Dr. Johnson is nationally and internationally renowned for his work on mechanisms of renal injury and progression, including in glomerulonephritis, diabetes, and hypertension. Recent studies have focused on the pathogenesis of essential hypertension and the role of subtle renal injury. He has also performed extensive research on the role of uric acid and fructose in the epidemic of obesity, metabolic syndrome, diabetes, and hypertension. He has published over 420 articles, lectured in over 30 countries, and is currently coeditor with John Feehally and Juergen Floege of the very successful clinical textbook, Comprehensive Clinical Nephrology. He is listed by the ISI Web of Science as one of the 250 most cited physicians in the field of Clinical Medicine for the last 20 years.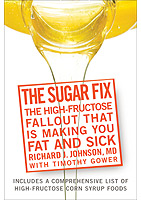 He has published on a wide range of areas, from cobalt poisoning in the Andes, kidney disease in Tibet, the Yanomamo Indians of Southern Venezuela, lung fluke infections in Indochinese refugees, evolution of early humans with experts from the Natural History Museum of London, and studies of primates in the San Diego Zoo. He received the American Society of Nephrology Young Investigator Award in 1994 and is a member of the American Society for Clinical Investigation.
He has also written a lay book, The Sugar Fix, which was published by Rodale Books in 2008. In The Sugar Fix, Dr. Richard Johnson uses results from his pioneering research on the link between a high-fructose diet and the metabolic syndrome to connect the American obesity epidemic directly to a frightening escalation in our fructose consumption.