---
A bit about influenza, to get you ready for Chris Nyquist's update and discussion: In humans, there are 2 important classes of influenza virus, A and B. The most severe disease and all pandemics are from the A class. These viruses keep their genetic material as RNA (not DNA the way we do), and it's inside them in 8 distinct segments. If a cell in a human or pig or bird happens to get infected at the same time by 2 separate flu viruses, the segments may "reassort" while being packaged into new flu particles, so a new virus, with some properties of each parent, may emerge, and if it has growth or spread advantages, will soon predominate. This process is called "shift" and has led to pandemics. More commonly, the virus mutates so each new generation may be a little different ("drift"). This usually doesn't matter, but if a mutant has a better way of evading the human immune system, then it too will soon predominate. This is thought to be why some flu's have returned after a few months in a more virulent form.
The current H1N1 is so called because it has the "1" version of the hemagglutinin gene (involved in attachment of the virus to its target cells) and of the neuraminidase gene (involved in release of newly made virus from the infected cell). Its full name is Influenza (H1N1 )A/California/04/2009, based on the virus isolated from "patient 1" in the US, a 10-year old boy in California.


The CDC has its usual excellent coverage of the H1N1 situation. Go to this page, and you can click on the map there to get the very latest summary.
---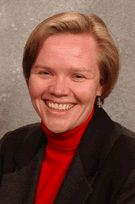 Ann-Christine Nyquist, MD, MSPH, Associate Professor of Pediatrics
Associate Professor of Community and Behavioral Health, Colorado School of Public Health
Associate Dean of Diversity and Inclusion, School of Medicine
Director, Pediatric Infectious Diseases Fellowship Program
Medical Director, Infection Prevention, The Children's Hospital
Chris Nyquist earned her medical degree from the University of Michigan in 1987. In 1990 she completed pediatric residency training at UCLA Medical Center and served as Chief Resident. Dr. Nyquist completed pediatric infectious diseases fellowship training at the University of Colorado Denver School of Medicine in 1995. She was honored with a National Research Service Award for a postdoctoral fellowship in Primary Care and Health Services in 1995 and earned her Masters of Science in Public Health from the University of Colorado Denver School of Medicine in 1997. Dr. Nyquist joined the faculty of the Department of Pediatrics and The Children's Hospital in 1997 and the Department of Preventive Medicine and Biometrics at UCD in 2000. Since 1997 she has directed the CHIP Youth Project at The Children's Hospital, a program for HIV-infected and at-risk youth; and in 2000 she was appointed Medical Director of Infection Prevention at The Children's Hospital.
Dr. Nyquist's scientific interests include adolescent HIV infections, immunizations, antimicrobial utilization and resistance, and hospital epidemiology/infection control. She is involved in a wide range of teaching activities and has been an active member of the Pediatric Housestaff Selection Committee since 1999. In addition, Dr. Nyquist participates in many local, regional, and national committees, including the Adolescent Committee of the National Institutes of Health Pediatric AIDS Clinical Trials Group. She was recently honored with the Clinical/Affiliated Faculty Recognition Award from the Department of Preventive Medicine and Biometrics at UCD. Dr. Nyquist is board certified in Pediatrics and subspecialty certified in Pediatric Infectious Diseases.