---
Dr. Perreault's overarching research interest lies in understanding the different pathways by which people develop type 2 diabetes, and developing tailored strategies for diabetes prevention. Research projects to date have yielded valuable information about sex differences in diabetes risk, which lie, in part, in the key metabolic features in people with different types of pre-diabetes. Pre-diabetes is defined as impaired regulation of blood sugar, where values are in a grey area between the upper limit of "normal" and the lower limit of "diabetes." Pre-diabetic individuals may have impaired fasting glucose (IFG; measured in the morning after an overnight fast), impaired glucose tolerance (IGT; the rate of rise and fall of blood sugar in the hour or two following a standard glucose drink), and both IFG and IGT. Recently, research pursuits have focused on unraveling the pathophysiology underlying isolated IFG – a prominent type of pre-diabetes – affecting roughly 25 million Americans. Specific environmental pollutants are strongly implicated as causal in IFG, hence proposed projects are aimed at removing these in a research setting to see if normal glucose regulation can be restored. Complimenting her independent research interests, Dr. Perreault works closely with collaborators examining emerging risk factors for diabetes such as sleep restriction, intramuscular lipids (see the picture) and the human microbiome. Dr. Perreault is part of the Diabetes Prevention Program (DPP) and heavily utilizes the Clinical Translational Research Center (CTRC) on campus.
Would you like to participate in an important research program that could improve the health of millions of people? Researchers at the University of Colorado are looking for volunteers to participate in a research study investigating how fat in muscle is related to diabetes risk. The study offers comprehensive metabolic testing (% body fat, blood analysis, metabolic rate testing, dietary analysis). We pay participants for their time, as well as give back all the information we gather on them during the course of testing. We are looking for male and female lean (BMI <25) and overweight (BMI >30) controls age 40-55 or Type 2 diabetics, age 35-40, who are not taking insulin. Get the flyer.
---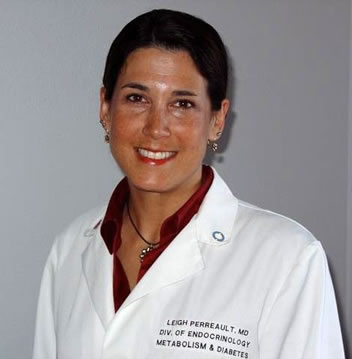 Dr. Leigh Perreault is a physician and clinical researcher at the University of Colorado School of Medicine, on the Anschutz Medical Campus in Aurora, CO. She graduated from the University of Southern California Keck School of Medicine in 1996. She completed a residency in Internal Medicine and fellowship in Endocrinology, Metabolism and Diabetes at the University of Colorado School of Medicine, and is currently board-certified in both. Dr. Perreault has received an Endocrine Fellow's Foundation Award, Patient-oriented Career Development Award (K23) from the National Institutes of Health, as well as a Career Development Award from the American Diabetes Association, for her work unraveling the metabolic complexities of pre-diabetes. She works tirelessly on behalf of people at risk for diabetes, both as a volunteer for the American Diabetes Association, a national and internal educator, and directly through clinical care of people with pre-diabetes and diabetes.