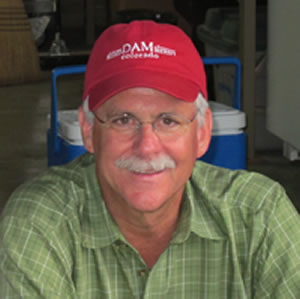 Dr. Daniel R. Bush is a professor of plant biology at Colorado State University. He is the former Chair of the Department of Biology at CSU and is now the Vice Provost of Faculty Affairs. His research focuses on how plants allocate organic nutrients between organs, how changes in nutrient availability alters gene expression, and the discovery of genes that control biomass production. Dr. Bush's research is currently funded by the USDA-AFRI and the US Department of Energy. He is also Co-PI of a NSF Integrative Graduate Education and Research Traineeship program. He is an editor for three professional journals and has served on a variety of federal grant panels and private advisory boards. He is a past president of the American Society of Plant Biologists and past Chair of Section O, Agriculture, Food and Renewable Resources for the American Association for the Advancement of Science. He is a Fellow of the American Society of Plant Biologists and a Fellow of the American Association for the Advancement of Science. He earned his PhD at the University of California at Berkeley, and was a professor of plant biology and an USDA-ARS scientist at the University of Illinois from 1988 until 2003 before accepting the Chair position at CSU.
Humans have been modifying the genetics of plants ever since they started saving the seeds of particularly productive plants for use in the next growing season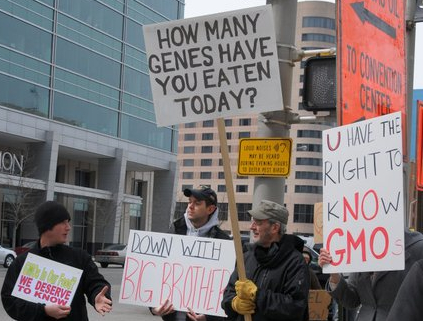 (approximately 12,000 yrs ago). In the 20th century, we dramatically increased yields and disease resistance in most crops by exploiting our understanding of Mendelian genetics. In recent years, we have been able to modify a variety of desirable traits in many crops by using the tools of recombinant DNA technology. The aim of my presentation will be to outline the techniques used to create genetically modified crops starting with domestication and ending with genetic engineering using recombinant DNA technology. We'll also discuss the limitations and potential for genetic engineering to help develop a secure and sustainable food supply for the nine billion people that will occupy the earth by 2050.
We love the question the man with the tall sign is asking. (Image: Flickr/Alexis Baden-Mayer )