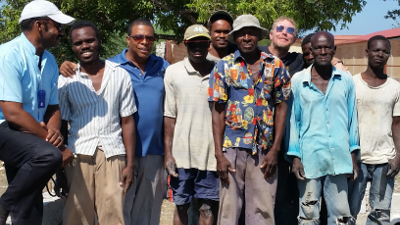 Greg Cronin has been an applied ecologist at CU Denver since 1998, where he is an Associate Professor in the Department of Integrative Biology and Sustainability Minor. Dr. Cronin uses the transdisciplinary approach to protect and restore ecosystems, encourage sustainable living, and to grow food using aquaponics. He received his Ph.D. in Marine Sciences from UNC-Chapel Hill, and worked in freshwater habitats as a post-doc at Notre Dame and CU Boulder. He is currently a student of the Music and Entertainment Industry Studies in the College of Arts and Media at CU Denver. Dr. Cronin founded the non-profit Yon Sel Lanmou (means "One Love" in Haitian Creole, YonSelLanmou.org), which has the mission of creating a thriving, sustainable society in Haiti.
Aquaponics is an emerging technology that grows food just about anywhere in the world, including urban environments. Aquaponics combines aquaculture and hydroponics in a closed flowing ecosystem made up of edible species. I learned about aquaponics in 2009 from Will Allen, who received a MacArthur Genius Award and was recognised as one of Time Magazine's 100 Most Influential People on the Planet in 2010 because of his work with aquaponics. I traveled to St. Croix to attend a workshop taught by the Father of Modern Aquaponics, Prof. Jim Rakocy. On my return to Denver, I took a detour to Port au Prince, Haiti to provide humanitarian relief to victims of the Jan. 12, 2010 earthquake. These events led to my current interests in overcoming some of the challenges that aquaponics faces, promoting aquaponics in Haiti to protect environments and encourage food independence, and establishing aquaponics in Colorado as a way to increase access to healthy food while reducing pollution and GHG emissions.
Colorado has been a leader in aquaponic food production. I will share a history of aquaponics in the state, including the development of the system at the GrowHaus, where Councilman Michael Hancock helped establish aquaponic policy. That system was enlarged and updated by Colorado Aquaponics to become Flourish Farms. The first aquaponic system in a US jail was built by our team at the Denver County Jail. As aquaponic technology moves from the hobbyists to commercialisation, many challenges are being overcome, they are becoming profitable, and are becoming more popular. Food systems will become more sustainable as aquaponics expands.