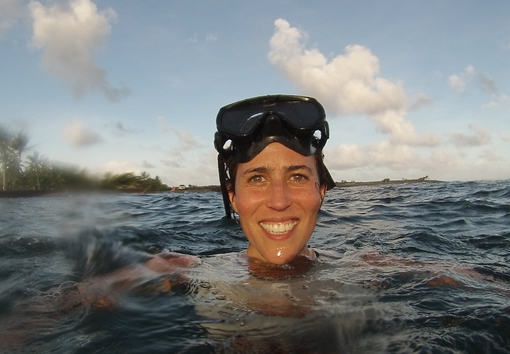 A scientist and storyteller, Marah Hardt works at the crossroads of research, communication, and strategy to build a sustainable future for people and the sea. As founder of OceanInk, Marah worked for five years with interdisciplinary teams investigating coral reef health, fishery impacts, ocean acidification, and sustainability of seafood supply chains. She is currently Research Director at Future of Fish, working with entrepreneurs and innovators to create a transparent, sustainable global seafood industry. She is also author of the conservation science book, SEX IN THE SEA (St. Martin's Press, 2016). Throughout all her roles, Marah has sought to "turn science into stories that make a difference." She received her PhD in marine science from Scripps Institution of Oceanography and her undergraduate degree in History of Science from Harvard University.
Forget the Karma Sutra. When it comes to inventive sex acts, just look to the sea. There we find the elaborate mating rituals of armored lobsters, giant whales engaging in lively threesomes, and full-moon sex parties of grouper. It's in the ocean—where sex was first invented—that reproduction may look like a handshake; an interlocking ring of individuals forming a closed loop of lovers; or perhaps a microscopic male squeezing sperm out of a hole in the top of his head while living inside his giantess mate's kidneys. Sex in the sea is wet and wild, and each strategy is finely tuned to suit the lifestyle and location of a species. It's a salty symphony of sex that ensures the big blue sea stays bountiful year after year…until now.
Believe it or not, over the last century or so, we've begun to interrupt these intimate acts of the deep, with far reaching consequences not just for horny halibut, but for us as well. In this Café, we'll talk about the weird and wild reproductive strategies of marine life and why understanding these strategies matters to us up here on land. The science of sex in the sea is exploding, and we'll discuss how new technologies and innovations are offering insights into how we can better manage our oceans. Beyond learning a few fun, "sexsea" trivia, we'll dive into why sex is the heart of sustainability, and how we can all play a bigger role in supporting (rather than thwarting) successful sex in the sea.