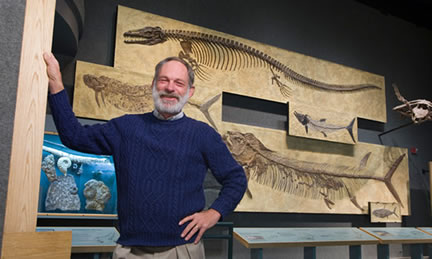 Richard K. Stucky, PhD, is Curator of Paleoecology & Evolution at the Denver Museum of Nature & Science, a position he has held since 2006. He started his museum career at the Carnegie Museum of Natural History and moved to the DMNS in 1989, where he has served as Vice President of Programs, and of Research, and Chief Curator. He holds AB and MA degrees from the University of Colorado, Denver, and a PhD from CU Boulder. His longstanding interest is in fossil mammals, and how their evolution and abundance is driven by climate change. He has also described new species in the fossil record. He was President (2000-2) and Member of the Executive Committee (1998-2004) of the Society of Vertebrate Paleontology. Among his many public outreach activities, he is Coordinator for the Teen Science Scholar Program, a leadership program in science for teenage youth at the Denver Museum of Nature & Science.
It has only been a little over 150 years since the very first publication on evolution appeared – "On the tendancy of species to form varieties; and on the perpetuation of varieties and species by means of selection" written by Charles Darwin and A.R. Russell in 1858 in the Proceedings of the Linnean Society. A few years later, T.H. Huxley wrote that the evidence for or against evolution could be found by examination of the fossil record. In those 150 years since, no evidence has come to refute the basic principles of evolution. Today, studies of evolution in the fossil record are beginning to transform many of our perceptions and ideas about species, extinctions, and causes of evolutionary change.
The most important Pleistocene Site in Colorado from 50,000 to 150,000 years old was only discovered this past October by construction workers near Snowmass, Colorado. This new site will not only give us a new perspective on how we can better understand evolution but also will give us a new perspective on new episodes in Colorado History. Importantly studies of the past can give us important information about how climate and evolution are interrelated and how we can consider managing our future.
Resources:
Dr. Stucky and the Museum are particularly involved in the study of mammals from the Eocene period (about 55 to 45 million years ago) and has a very extensive collection; more about that here.

The Museum also maintins two sites related to the Café topic, the mastodon ( "Snowmastodon") and other fossils discovered recently during excavation for a condominium at Snowmass. You can see a timeline of the exciting story of the discovery, and a site that was made for families.